D-Case Editor - A Typed Assurance Case Editor
D-Case Editor is a typed assurance case editor. which has been implemented as an Eclips plug-in using Eclipse GMF. The key features are as follows.
Supporting GSN ( Goal Structuring Notation )
GSN Pattern Library function and prototype Type Checking function
Consistency Checking of D-Case description -> Makoto Takeyama's D-Case/Agda Page
Monitoring of target systems
And more features are being developed.
---
Screen Shot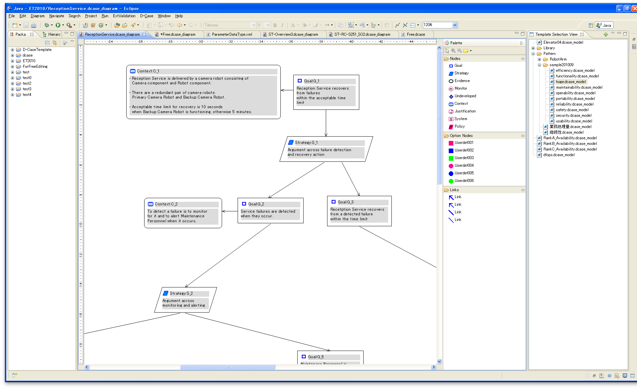 Information
What is Assurance Case?
System assurance has become a great importance in many industrial sectors. Safety cases ( assurance cases for safety of systems ) are required to submit to certification bodies for developing and operating safety critical systems, e. g., automotive, railway, defense, nuclear plants and sea oils. There are several standards, e. g. EUROCONTROL [1], Rail Yellow Book [2] and MoD Defence Standard 00-56, which mandate the use of safety cases. Furthermore, recently medical device industry has also focused on assurance cases [4].
There are several definition for assurance cases [3]. We show one of such definitions as follows [5].
"a documented body of evidence that provides a convincing and valid argument that a system is adequately dependable for a given application in a given environment."
[1] EuropeanOrganisationfortheSafetyofAirNavigation. Safety case development manual. European Air Traffic Management, 2006
[2] Railtrack. Yellow book 3. Engineering Safety Management Issue3, Vol. 1, Vol. 2, 2000
[3] Workshop on Assurance Cases: Best Practices, Possible, Obstacles, and Future Opportunities, DSN 2004, 2004
[4] http://www.fda.gov/MedicalDevices/DeviceRegulationandGuidance/GuidanceDocuments/ucm206153.htm#6
[5] http://www.city.ac.uk/informatics/school-organisation/centre-for-software-reliability/research
What is GSN ( Goal Structuring Notation ) ?
GSN is a major graphical notation for assurance cases. It has been developed by Tim Kelly and his colleagues in University of York. See Tim's introduction paper: The Goal Structuring Notation - A Safety Argument Notation
T P Kelly, R A Weaver
in Proceedings of the Dependable Systems and Networks 2004 Workshop on Assurance Cases, July 2004
What is D-Case?
D-Case is the name of our research team for assurance cases. The letter "D" emphasize our focus on Dependability. Our team is one of the DEOS project teams. DEOS aims to develop dependable embedded systems.We observe assurance cases are crucial for sustaining dependability of systems in an open environment. For more details, please refer to our Inconsistency Robustness 2011 paper.
Environment in which operation is verified
Note: Currently, we only officially support for Eclipse IDE for Java Developers Indigo Service Release 1 on WindowsR 7, but some people kindly tell us that D-Case Editor can be installed and seems work fine in the following environments: Eclipse 3.5(Galileo) on OS X (10.6, 10.7, and 10.8), on Debian GNU/Linux ( 6.0.3 ) , and Eclipse 3.6(Helios) on Redhat Linux. If possible, please let us know how it works in your environment :- )
Download
D-Case Editor
binary
Source code
Template
Document
D-Case Document Management System
Note: This function may not have an enough function because of an alpha release version.
D-Case Document Management System
D-Case Editor with Module extension
The package version of D-Case Editor
All in one package including Eclipse platform.
previous release
License
Copyright Fuji Xerox Co., Ltd. 2011-2012
All rights reserved.
Note: Currently we experimentally release this software only in binary forms with the following restrictions: Among actions permitted in the conditions below, redistribution of this software and sale of products derived from this software are prohibited. In the next release, we plan to release this software without this note (2011.7.25).
Redistribution and use in source and binary forms, with or without modification, are permitted provided that the following conditions are met:
Redistributions of source code must retain the above copyright notice, this list of conditions and the following disclaimer.
Redistributions in binary form must reproduce the above copyright notice, this list of conditions and the following disclaimer in the documentation and/or other materials provided with the distribution.
THIS SOFTWARE IS PROVIDED BY YUTAKA ISHIKAWA AND CONTRIBUTORS "AS IS" AND ANY EXPRESS OR IMPLIED WARRANTIES, INCLUDING, BUT NOT LIMITED TO, THE IMPLIED WARRANTIES OF MERCHANTABILITY AND FITNESS FOR A PARTICULAR PURPOSE ARE DISCLAIMED. IN NO EVENT SHALL YUTAKA ISHIKAWA OR CONTRIBUTORS BE LIABLE FOR ANY DIRECT, INDIRECT, INCIDENTAL, SPECIAL, EXEMPLARY, OR CONSEQUENTIAL DAMAGES (INCLUDING, BUT NOT LIMITED TO, PROCUREMENT OF SUBSTITUTE GOODS OR SERVICES; LOSS OF USE, DATA, OR PROFITS; OR BUSINESS INTERRUPTION) HOWEVER CAUSED AND ON ANY THEORY OF LIABILITY, WHETHER IN CONTRACT, STRICT LIABILITY, OR TORT (INCLUDING NEGLIGENCE OR OTHERWISE) ARISING IN ANY WAY OUT OF THE USE OF THIS SOFTWARE, EVEN IF ADVISED OF THE POSSIBILITY OF SUCH DAMAGE.
Papers
Hajime Fujita, Yutaka Matsuno, Toshihiro Hanawa, Mitsuhisa Sato, Shinpei Kato, and Yutaka Ishikawa, "DS-Bench Toolset: Tools for Dependability Benchmarking with Simulation and Assurance,"42nd IEEE/IFIP International Conference on Dependable System and Networks (DSN 2012),8 pages,Jun.2012.(Accepted).
Yutaka Matsuno, Kenji Taguchi: Parameterised Argument Structure for GSN Patterns, Proc. IEEE 11th International Conference on Quality Software (QSIC 2011), 6 pages, to appear, July 2011 (Short Paper).
Yutaka Matsuno, Hiroki Takamura, Yutaka Ishikawa: A Dependability Case Editor with Pattern Library, Proc. IEEE 12th International Symposium on High-Assurance Systems Engineering (HASE), pp. 170-171, Nov. 2010 (Fast Abstract).
---