D-Case Weaver
On a Web Browser
The GSN graph of D-Case is created, and Node and Link can be added, changed and deleted.
The sub-tree of D-Case can be modularized. A module can be added to D-Case.
The information about D-Script can be added, changed and deleted to Node.
The XML of D-Case which D-Case Weaver generates is upward compatible for the XML that D-Case Editor generates.
The statistical information for every type of Node of a GSN graph can be displayed.
D-Case Weaver cooperates with Content Management System ( Alfresco Community Edition ) and can manage D-Case files and evidence documents.
URL to related data can be attached to Node.
Client / Server ( Environment in which operation is verified )
Server
OS : Ubuntu 12.04
Http Server : Apache
Client
OS : Ubuntu 12.04, Windows 7
Browser : Firefox ( Version 20.0 ), Chrome ( Version 26.0 )
Note: Internet Explorer cannot be used.
Screen Shot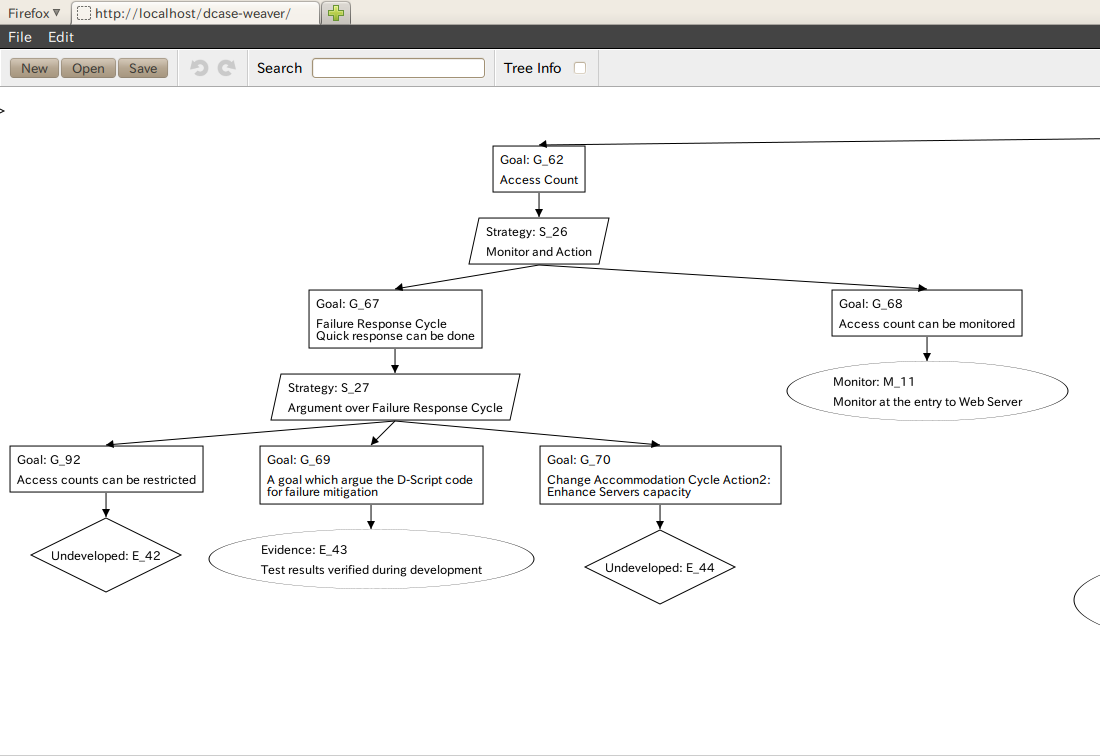 D-Case Weaver use explanation animation
( It can use immediately only by seeing this. )
Use explanation animation ( 21.2MB 3min08sec )
Note: Voice narration can be heard.
Trial
D-Case Weaver can be tried from here.
Note:
D-Case Weaver is using JavaScript. Please use after enable JavaScript.
Preservation of edit data cannot be performed with the trial version.
Documentation
D-Case Weaver Specification 1.0
Download
Debian Package ( deb ) D-Case Weaver 0.2.1 ( about 222 KB )
Refer to the D-Case Weaver Specification for the installation method and the operation method.
Source ( tar.gz ) D-Case Weaver 0.2.1 ( about 221 KB )
License
Copyright (c) 2012-2013 JST DEOS R&D Center
Permission is hereby granted, free of charge, to any person obtaining a copy of this software and associated documentation files (the "Software"), to deal in the Software without restriction, including without limitation the rights to use, copy, modify, merge, publish, distribute, sublicense, and/or sell copies of the Software, and to permit persons to whom the Software is furnished to do so, subject to the following conditions:
The above copyright notice and this permission notice shall be included in all copies or substantial portions of the Software.
THE SOFTWARE IS PROVIDED "AS IS", WITHOUT WARRANTY OF ANY KIND, EXPRESS OR IMPLIED, INCLUDING BUT NOT LIMITED TO THE WARRANTIES OF MERCHANTABILITY, FITNESS FOR A PARTICULAR PURPOSE AND NONINFRINGEMENT. IN NO EVENT SHALL THE AUTHORS OR COPYRIGHT HOLDERS BE LIABLE FOR ANY CLAIM, DAMAGES OR OTHER LIABILITY, WHETHER IN AN ACTION OF CONTRACT, TORT OR OTHERWISE, ARISING FROM, OUT OF OR IN CONNECTION WITH THE SOFTWARE OR THE USE OR OTHER DEALINGS IN THE SOFTWARE.
---